See More Upcoming Events
LATEST NEWS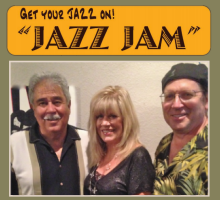 Get Your Jazz On!
"Jazz Jam"
with John and Cherie Shipley and Neil Strocchio
Saturday, December 6, 2014
8:00 - 11:30 PM
$5 Cover
Brewery Arts Center
449 West King, Carson City
775-883-1976
All jazz fans, jazz musicians and past Plan:b supporters, mark your calendars for Saturday, December 6, 2014! Regular past Plan:b hosts, Cherie and John Shipley, and Neil Strocchio will reunite to present a fun Jazz Jam reunion at The Brewery Arts Center (BAC) in the "Front Room" of the Black Box.
The Black Box is a hip intimate theater space in BAC where Cherie has helped create a "jazzy bar- lounge," designed specifically for Jazz Jam. The beer and wine bar, stage lighting and funky dark ambience will enhance this cool jazz event.
It's time to reunite, let jazz be played, and have some jazzy fun!
The main entrance to the Black Box is on Division St. Doors and bar open at 7:30 pm. Music starts at 8:00 pm and will end by 11:30 pm. A $5.00 cover will support the core band (the only compensation) while the bar proceeds stay with BAC. We appreciate the generosity of the Brewery Arts Center for donating use of the space and for supporting jazz in our community.
See you at the Front Room of the Black Box!
Next Big Band Jazz Event
New Local Jazz Radio
EVENTs Calendar