LATEST NEWS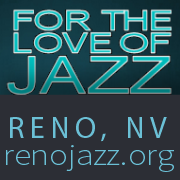 We Have A New Web Site!
renojazz.org
If you want to find information about Jazz Music and Jazz Culture taking place in the greater Reno-Sparks-Carson City-Tahoe area, you now have a site to consult. We do the searching and bring the details to one place for local events, venues, resident and guest artist spotlights, the best local radio, jazz book and music recommendations, and much more.
We now have an easier name to remember, too. Say it once or twice and you'll have it memorized: RENOJAZZ.ORG.
Check out our new pages:
And, as Reno continues to grow as a cultural destination, we will strive to promote and create an ever richer and more vital jazz culture here in northern Nevada. Bookmark us now, for as we move into the future with our new site, we will be adding more fun and interesting features to bring jazz into the hearts and souls of every citizen of this great city.
Thanks for visiting! We hope you visit often.
EVENTs Calendar