LATEST NEWS
Special Event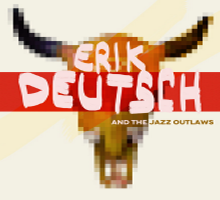 Erik Deutsch and the Jazz Outlaws
Steinway Piano Gallery
Friday, July 25, 2014
7:30 PM
$10 General; $5 Students
Steinway Piano Gallery
500 East Moana Lane
Reno, NV

775-829-0600
Brooklyn, NY based pianist Erik Deutsch exists in many musical worlds, touring and recording with jazz artists like Charlie Hunter, Ben Allison, Steven Bernstein, Ellery Eskelin, Theo Bleckmann, Nels Cline, Jenny Scheinman, Allison Miller, Art Lande, and Ron Miles.  His unique ability to genre-cross has led him to work with pop artists like Norah Jones, Rosanne Cash, Citizen Cope, Shooter Jennings, Alice Smith, Phillip Phillips, and Devotchka.
Deutsch holds the distinction of being the only keyboardist to tour regularly with 7-string guitar master Charlie Hunter (from 2007 to 2009 he toured and recorded two albums as a member of Charlie's trio).  
For this special concert (Deutsch's first in Reno), he'll be joined by his NYC based quintet The Jazz Outlaws:  Tony Mason on drums (John Scofield, Charlie Hunter), Jeff Hill on bass (Rufus Wainright), Scott Metzger on guitar (Trixie Whitley, Antibalus), and Jon Gray on trumpet and vocals (Mofro, the Motet).  Fresh off a brand new record, the concert on their new sound they call Outlaw Jazz--a fresh blend of countrified jazz with Deutsch's signature soulful, psychedelic, funky sound.
This concert is sponsored by For the Love of Jazz! Advance tickets sales are not available for this event.
EVENTs Calendar