FTLOJ Sponsored Events
Buy Tickets Online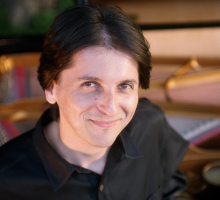 Tamir Hendelman Trio
Sunday, November 18, 2018 at 7:30 PM
$25 General; $20 FTLOJ Members; $5 Students w/ ID

General and Membership Discount Tickets available for purchase on line or at the door; Student tickets available at the door.


Joe Crowley Student Union Theater
East 15th Street & North Virginia St
University of Nevada, Reno
Tamir Hendelman, piano
Born in Tel Aviv, Tamir Hendelman began keyboard studies at age 6, moving to the U.S. in 1984 and winning Yamaha's national keyboard competition two years later. Concerts in Japan and the Kennedy Center followed.  He studied at the Tanglewood Institute and received a B.M. in Music Composition from Eastman School of Music in 1993. Since 2000 Tamir Hendelman has toured the US, Japan and Europe with his own trio and as a member of the Jeff Hamilton Trio and the Clayton-Hamilton Jazz Orchestra.
In 2001 he premiered Clayton's orchestration of Oscar Peterson's Canadiana Suite with the Clayton-Hamilton Jazz Orchestra.
Peterson wrote in his online journal: "It was a satisfying but strange feeling... to hear a new young voice make some exhilarating and thoughtful solos in the spaces that I used to occupy in those pieces…I look forward to hearing more from him."
Tamir Hendelman has released two recordings as a leader of his trio: Playground (Swing Bros, 2008) and Destinations (Resonance 2010). Reaching #1 on the jazz charts, Destinations takes listeners along on a voyage of musical discovery. The music ranges from originals to Jobim, Keith Jarrett and Maurice Ravel. "Destinations to me is not only about the places I have traveled to, but also about the journey of being a jazz musician."   He has also become a first-rate arranger and accompanist for some of today's premier vocalists, such as Natalie Cole, Roberta Gambarini, and Jackie Ryan. He has accompanied Barbra Streisand in her return to jazz on Love Is The Answer (Columbia, 2009), at the Village Vanguard as well as on her 2012 North American orchestral tour.  He has also recently arranged and recorded for artists such as trumpeter Claudio Roditi, guitarist Graham Dechter and violinist Christian Howes. In 2014, he performed Gershwin's Rhapsody In Blue with the Winston-Salem Symphony.
Since 2005, Tamir Hendelman has been on the jazz faculty of UCLA and has conducted numerous workshops in universities and music programs in the US and abroad.  He has

"There are many fine pianists with impressive technique and swing who are convincing in a number of styles and play with real feeling. What increasingly distinguishes Hendelman is his gift for imaginative arranging…. He will compose an introduction that makes it difficult to predict what follows, but seems perfectly suited—even organic—once the tune begins." (www.allaboutjazz.com)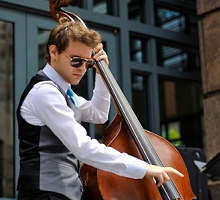 Alex Frank, bass
Alex Frank is the newest member of guitarist Bruce Forman's western swing/bebop group, Cow Bop. He also often performs with James Tormé, Bill Holman, Nick Mancini, John Daversa, and Barbara Morrison. Alex recently graduated from Oberlin Conservatory, where he studied with Peter Dominguez and jazz giant Eddie Gomez from the Bill Evans Trio. The Los Angeles native has also studied with legendary bassist John Clayton as well as David Allen Moore of the Los Angeles Philharmonic. In 2009, at age twenty-one, Alex was a finalist in the International Society of Bassists Jazz Competition. Alex has recently recorded with trumpeter Marcus Belgrave (Ray Charles Band), songwriter Robb Strandlund (The Eagles' Already Gone), Tyler Robinson (NBC's The Voice), and is featured on the film soundtracks What's My Diagnosis and Sherman's Way. Other artists that Alex has played with include Benny Golson, Gary Bartz, Josh Nelson, Tom Luer, Melissa Morgan, Sam Barsh, Mike Lang, Graham Dechter, Andy Langham, and Stevie Wonder.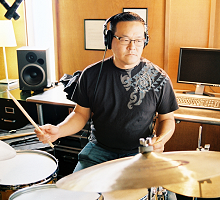 Dean Koba, drums
Dean Koba is native of Honolulu, Hawaii.  He has performed with numerous jazz greats some of which include Benny Bailey, Bud Shank, Jeff Clayton, John Clayton, Bill Cunliffe, Dee Daniels, Walter Norris, Bob Sheppard, Gary Foster, Fareed Haque, Makoto Ozone, Roberta Gamborini, Jackie Ryan, and Tamir Hendelman. His tours have taken him all around the United States as well as Europe.  He is featured on several recordings with bassist Christoph Luty, the Acoustic Jazz Quartet, The Bayou Brass Band, Brent Jenson and the Greg Reitan trio. 
Dean studied music at Northwestern University (BA) and USC School of Music (MM). He also studied privately with Jeff Hamilton (Ray Brown, Oscar Peterson, Diana Krall), Joe Labarbera (Bill Evans, Tony Bennett), and Greg Field (Count Basie Orchestra, Frank Sinatra).  Dean currently resides in Lakewood, California and freelances in the greater Los Angeles area.  He is also the percussion instructor at Long Beach City College and the jazz drumset instructor at El Camino College.
Dean Koba plays Aquarian Drum Heads, Bosphorus Cymbals, Gretsch drums, Gibraltar Hardware and Regal Tip sticks and brushes.
Note: Ticketing prices can change without notice.